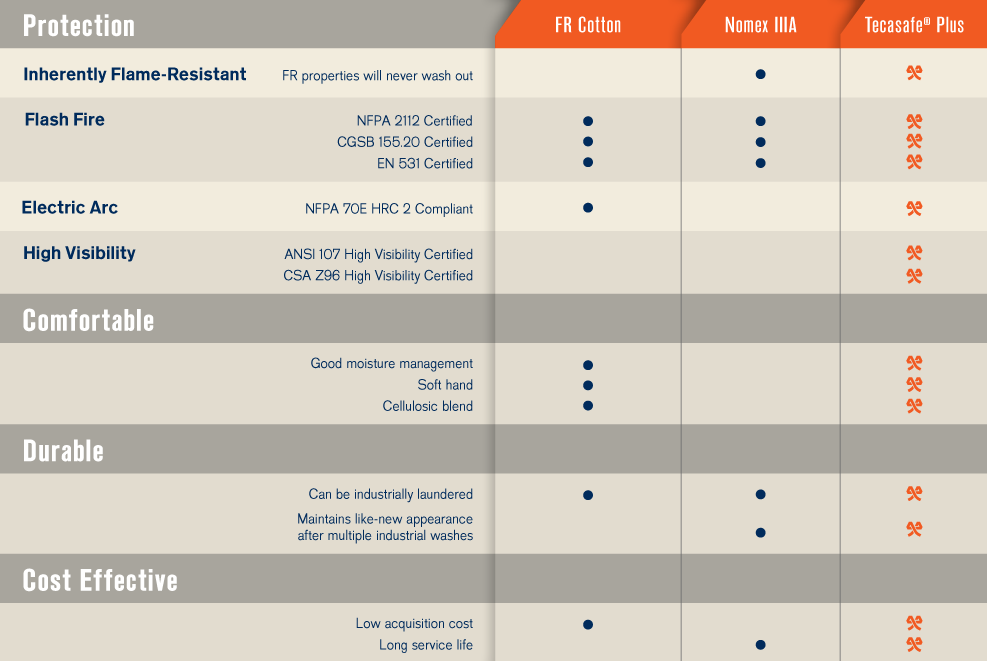 TenCate Tecasafe® Plus is engineered to provide unbeatable electric arc and flash fire protection that lasts twice as long as FR treated cotton fabrics. Yet our soft and lightweight fabric provides unmatched comfort. It is also comforting to know that our fabric's inherent protection will never wash or wear out.
If you're not wearing protective work clothing made with TenCate Tecasafe® Plus fabric, demand it. Your safety may depend on it.

Inherently flame resistant – FR properties are built in, and won't wash or wear out. Exceeds NFPA 70E HRC 2 and NFPA 2112 performance standards.

Comfortable to wear – Soft and breathable. Superior moisture management because of special cellulosic fiber content.

Exceptional durability – Outstanding abrasion resistance and better strength retention after multiple commercial washes.

Outstanding laundered appearance – Fabric retains its like-new look and maintains permanent pressed appearance better than other protective fabrics.
Excellent value – Long life cycle and competitive price means lowest cost.
Hi visibility – ANSI 107 and CSA Z96 compliant for low visibility environments.



| | | |
| --- | --- | --- |
| Tecasafe Plus - FR Protection | The Next Generation TenCate Tecasafe® XL fabrics | TenCate Introduction |